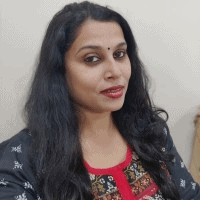 Testimonial for Coach Hemant Deshpande:
In summary, life looks more promising. I feel confident, I feel excited. The way I was 10 years ago and it's all thanks to Hemant.
Hi, I'm Manasi. I'm an HR Manager, working with healthcare industry. I was feeling absolutely directionless. I was feeling demotivated and scattered about my personal and professional life. I'm a single mom and I was always looking for appreciation from family as well as on my professional front, but was very demotivated about things not going right in my life, which I wanted to do. And I was doing kind of transactional job and I wanted to get into a very strategic role and that's where I contacted Hemant. We started with our coaching sessions from February onwards. In about eight sessions, he has helped me to build myself, start appreciating myself and look at the positive side. We had affirmations being written down, we had value exercise, scale exercise, you know, being done for myself. And then we figured out by resume building, by networking, working on LinkedIn profile, increasing my network on LinkedIn, and helping me to basically now land up an opportunity with an MNC where they have offered me HR head position. All this has been done because of Hemant. With the coaching session from Hemant, I think I have now figured out what I want in my life and hence I'm getting more and more offers, I'm giving it a shot to go and appear for these interviews where I can be at a HR head position.
It has also changed my life in a way that I started appreciating my son more and he also now loves to be with me instead of just running away from me. My mom has become happier because I'm getting many more offers my way. So it's all Hemant, who has to changed me from what I was he rebuilded me from where I began. And I think it's all thanks to him that my life looks more exciting and I feel more energetic and I feel absolutely confident that what I want in my life now.