Purpose of my work: Five years back, I was in a high paying career with global opportunities but something was missing. I was not enjoying my work, the purpose was missing. Then I decided to follow my heart and get into coaching to help thousands of others who are facing mid-career challenges. Now five years later, I have coached more than 100 clients helping them transform their careers and lives. This is immensely satisfying for me and my clients.
I truly believe that each one of us has unique Strengths & skills. True happiness is experienced when we are doing what we are Great at and working with our Passion. By using our unique strengths, we can make a huge positive difference not only to our own life but many lives around us
Based on years of experience going through my own career transformation and helping hundreds of mid-career professionals reinvent their careers, I have developed a powerful process that helps my clients get unstuck and achieve the career fulfilment they are looking for.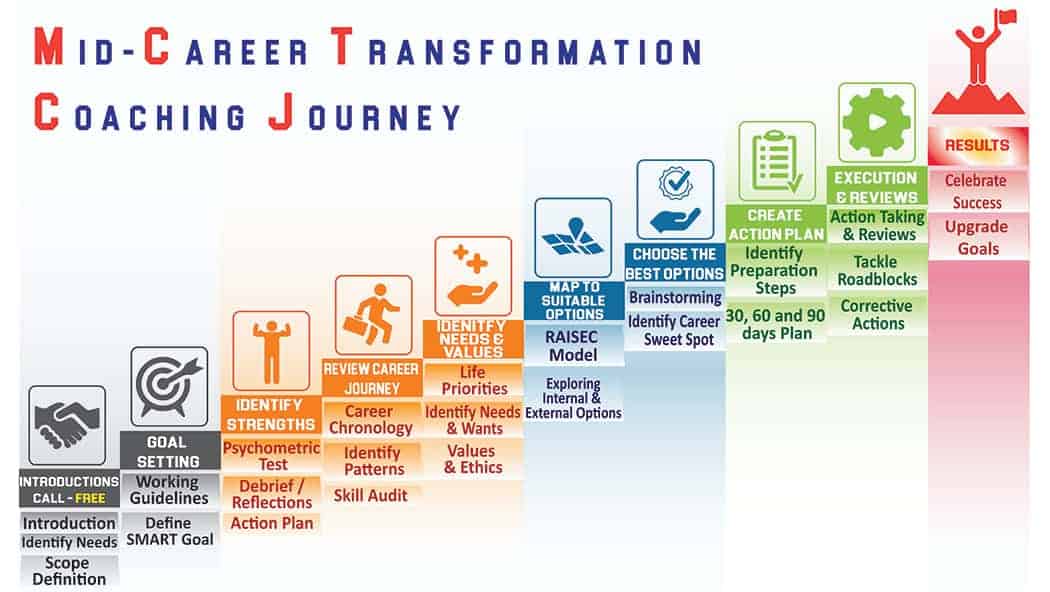 How Mid-Career Transformation process works:
1. Clarify what you really want – Define SMART Goals for your career
2. Identify your Strengths, personality traits, and suitable occupations based on your Personality
3. Identify career journey patterns of what you are great at and what you enjoy the most
4. Find out your true needs at this time such as level of income, role & position, type of work etc.
5. Identify your Values i.e. what's really important to you in your career. For example, what kind of work culture, work-life balance etc.
6. Find your Purpose– Why you are doing, What you are doing
7. Identify all your Resources – people you know, Money, social media channels etc.
8. Intelligent Mapping – based on all the above inputs, explore various career options & roles that are best suitable for you
9. Choose the option(s) that works best for you by creating various scenarios – Brainstorming
10. Create an Action plan with clear Milestones – 3 months, 6 months, 1 year
11. Implement your action plan with focus – Weekly assignments
12. Review progress regularly & stay on the success track – Weekly reviews
13. Powerful principles such as Three Intersecting Circles, Inside Out approach and many more
What Results can you expect from the Coaching program?
Self-awareness through Scientific tools such as Personality test
Clarity about your Strengths and areas of development
Discover your own career patterns – how your behaviour has shaped your career, decision making patterns etc.
A clear understanding of your needs Hands-on assignments for retrospection, introspection and reflection on your career journey, purpose, skills, needs, values and other important aspects
Identify your Career Sweet Spot – What you are Great at and What you Love to do.
Identify your self-limiting Beliefs and Blind Spots
Prepare yourself for better opportunities – Re-branding, Networking and Exploring 360 degrees
Perspectives and guidance based on my 21 years of global experience including 4 years of Career Reinvention Coaching experience with 100+ clients
Experience sharing from my own career reinvention journey
Complete confidentiality and zero conflict of interest.
Your dedicated Success partner committed to making you successful.
Transforming beliefs and habits
And much more…
How do we work together on Coaching engagement?
I work with you personally through 1-on-1 face-to-face or telephonic coaching sessions. Generally, we follow weekly rhythm for our sessions (1 hour each) and we schedule it as per mutual convenience. The sessions can be scheduled from Monday to Saturday 9 AM – 9 PM.
Our coaching conversations are Deep Dive sessions completely focused on your Goals. The program is completely customized for your needs.
So far, I have coached clients from Unilever, IBM, Cognizant, HSBC, Infosys, Barclays, Viacom 18, Capgemini, Accenture, AIG FIS Global, Syntel and Standard Chartered Bank to name a few.
Please check client success stories if you have not done so already.